WE ARE MINIMISE
Minimise is built on the principle if you give you will get. That means, we, as a company, give energy management upgrades and services to you at no upfront cost to create substantial savings from efficiency that underwrite the improvements and savings to your company or institution. It's called the NCOPA, or No Capital Outlay Plan Agreement. It's incredible and its story is one of legend in the industry. Currently its power and potential is on display at the Hillsborough County Public Schools in Tampa, Florida and it is the largest EEaaS (Energy Efficiency as a Service) project in the world.
HOW WE DO IT
The NCOPA, No Capital Outlay Plan Agreement, is a financial model designed to bring maximum energy efficiency to an entity while removing every obstacle to getting started. When Minimise CEO, Daniel Badran, was without speech due to Laryngeal Cancer, he needed an innovation that could sell itself. His give first spiritual foundation presented the answer.
"If I give all the tools at no cost and only profit from the savings we both share… everyone wins. If I can measure the energy so accurately that I can predict future savings, I can share those savings with the client up front so they can use them in other parts of their business or organization." It is those two ideas that have disrupted the energy efficiency industry.
WHAT ARE YOUR NEEDS?
Let's find a solution that's right for you.
SOLUTIONS
Energy efficiency and advanced technologies are at an apex right now. It's the perfect time to take advantage of better products deployed through the IoT, managed by the best efficiency engineers available.
AWARDS
For three consecutive years the Minimise team and the HCPS project have been multiple award winners at the best.energy International Partner Conference. In addition, we have won an award of Excellence from Career Source Tampa Bay for our leadership in the Summer Youth Job Connect program.
2018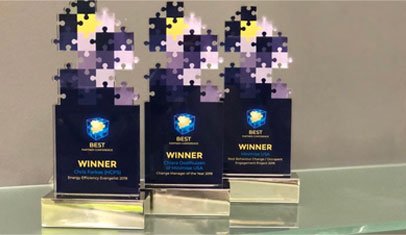 2019
2019
ENGAGEMENT:

COMMUNITY OUTREACH, EDUCATION AND PHILANTRHROPY
What sets Minimise apart is the depth of commitment to our clients. Nowhere is this more evident than in education and outreach. From philanthropy to curriculum to scholarships, our goal is not to be just a good vendor but set a model for public/private partnership.
LEARN MORE